Q. How do you make a Photobooth FUN?
 Get an Enclosed Photobooth.  Enclosed booths tend to work so much better than an open booth (a sheet for a backdrop) from an entertainment perspective because people prefer to have the FUN

 

poses etc behind closed doors… NOT out in the open 🙂

 

The Photobooth Attendant – Make sure the attendant is a 'people' person who understands entertainment.  You do NOT want someone who spends their whole night texting on their phone… it happens with other booths all the time!
Fun Props – What kind of Props do you get included?  With other booths they give you a stick?  We provide lots of hats, glasses, feather boas and lots of props +
Quality Equipment – Canon 1200 DSLR camera and a professional studio flash… not just a light.
ALL the photos on a USB at the end of the night!  That's right, you get ALL the photos.
The Photobooth is a 1.5 metre by 1.5 metre enclosed booth.   I provide a skirted table and all the props but if you want to provide something specific you are welcome to bring some along.   What do we look like? 
The Booth is fully automated touch screen technology, using a quality Canon DSLR digital camera, studio flash and it takes 4 photos every time couples/groups enter the booth. 
The 4 photos are then printed out (2 copies) and your guests can either keep both sets or stick one in an album (not included) and keep the other.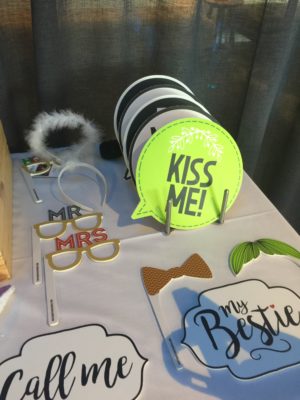 What goes on in the booth doesn't stay in the booth 🙂 You'll get all the photos on a USB at the end of the night!  Midweek packages start at $550 (inc GST).
P.S. We especially love travelling all over Queensland and New South Wales. 'Hec', we'll go anywhere for a wedding in Brisbane – Sunshine Coast – Gympie – Byron – Rainbow Beach – Sandstone Point – Toowoomba – Noosa – Byron – Gatton – Maleny – Warwick – Montville – Ballina – Hervey Bay – Flaxton – The Hunter Valley – Mapleton – Taree – Sandstone Point – Agnes Waters – Oceanview – Sandstone Point – Caloundra – Gold Coast – Lochinvar… did I mention the Sunshine Coast!  Don't pay too mush for your wedding DJ to Photobooth.
#colliersentertainment #brisbaneweddings #sunshinecoastwedding  #sunshinecoastweddings #malenyweddings #montvileweddings #noosaweddings #sunshinecoasthinterland #sunshinecoasthinterlandweddings #twinwatersweddings #toowoobaweddings #goldcoastweddings #bribieislandweddings #sunshinecoastphotobooth #Malenyphotobooth #montvillephotobooth #caloundraphotobooth #brisbanephotobooth #goldcoastphotobooth #weddingdj #weddingmc #sunshinecoastweddingdj #sunshinecoastweddingdjs #danceflooractio